STENDERS, pracaxi oil and rosemary oil hair conditioner
Stenders Cosmetics is a brand known for its natural products. The brand favours efficiency and organics of products it sells. Yet this is not all the brand takes care of. Cosmetics made by Stenders are also characterized by beautiful packages and fancy fragrances. The brand offers many cosmetic collections that contain bath milks, body care products as well as shampoos and conditioners. One of the best products of the brand is a hair conditioner for normal hair with pracaxi oil.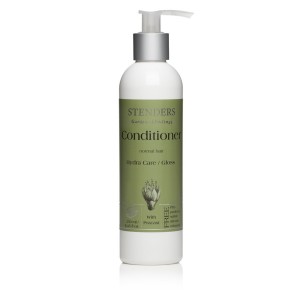 The conditioner for normal hair is closed in a 250 ml bottle featuring a pump dispenser. Certainly, this solution provides simplicity of use and improves efficiency of the product. The package itself is really smart, toned and evokes associations with eco-products. A green label with an image of Amazonian Pracaxi tree blossom is well-designed. Indeed, the product might catch eyes of organic products supporters.
The conditioner for normal hair by Stenders is a natural cosmetic the main ingredient of which is pracaxi oil and rosemary oil (designed for all hair types care). The producer claims that the conditioner with pracaxi oil will successfully bring hair back to life and gift it with gloss. This shine of hair will be obvious even in the artificial light. Although the product already sounds tempting enough, let us take a closer look and find out, what makes the cosmetic so effective.
First of all, the product main action is possible due to presence of pracaxi oil, which happen to be both an innovative ingredient as well as due to being Ecocert certified (proof that a cosmetic is natural and organic) substance. The oil is extracted from evergreen Pracaxi tree, which grows mainly in Amazonian rainforests. What is more, pracaxi oil has moistening features as it delivers shine to hair. In other words, it provides strands with appropriate level of hydration and adds healthy, natural gloss to hair.
Secondly, the additional ingredient the conditioner for normal hair by Stenders features is etheric oil distilled from rosemary leaves extract. Aroma-therapeutic features of rosemary oil delivers relaxation and soothing. Additionally, the oil eliminates dullness of hair. Another great advantage of the hair conditioner is its totally harmful ingredient-free composition. To demonstrate, the product does not contain any sulphates, parabens, PEG, silicones, nor colourants.